Activities and Things To Do in Blue Ridge Georgia
Cohutta Cove Mini Golf This new 18 hole Miniature Golf Course is located just South of Blue Ridge at 64 Dunbarton Farm Road has Frequent Player Rewards and you get 3 chances to win a Free game by getting a hole-in-one on the 9th, or the 18th, or if you hit the "free game" mark in their golf ball Plinko.

After a fun game of golf, you just have to try their ice cream, smoothies, special Espresso drinks and so much more. Great fun, great food...great time!


---
Brasstown Valley Resort is a golfer's paradise. This 19-hole public course with a golf club is located in a pristine valley of the Blue Ridge Mountains, Georgia.

Brasstown Valley Resort Golf
6321 Highway 76
Young Harris, Georgia 30582
(706)379-9900
www.brasstownvalley.com


---
Butternut Creek Golf Course features 6,536 yards of dramatic fairways, and is surrounded by the majestic beauty of the Mountains making it one of North Georgia's finest public golf courses.

Butternut Creek Golf Course
129 Union County Recreation Road
Blairsville, Georgia 30512
(706)439-6076
www.butternutcreekgolf.com


---
Whitepath Public Golf Course is only 20 minutes from Downtown Blue Ridge Georgia and features breathtaking scenery from elevated trees overlooking lush fairways, trout stream and 4 lakes that come into play. This course was designed in 1987 by Rocky Roquemore and will challenge and entertain golfers of all experience levels.

Whitepath Golf Course
1156 Shenandoah Drive
Ellijay, Georgia 30540
(706)276-3080
www.whitepathgolfclub.com

The Copper Basin 9 Hole Golf Course has beautiful scenery and is located near by on Highway 64, 3.5 miles east of Ducktown, Tennessee and 17 miles west of Murphy, N Carolina. From Blue Ridge Georgia take Highway 5 into Copperhill TN, take left on Highway 68N to Highway 64E and it will be 3.5 miles on left.

Copper Basin Golf Course
5765 US 64
Copperhill, TN 37317
www.copperbasingolfclub.com

Blue Ridge Canopy Tour - The most exciting zip line in the Blue Ridge Mountain of North Georgia. With more than 13 platforms and more than a mile of zip lines your are sure to enjoy yourself. Join them for your next Blue Ridge Vacation.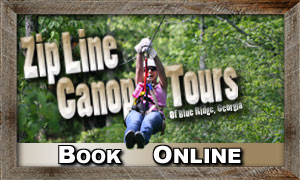 Adventure Trail Rides has 6 different horseback riding package choices on beautiful trails that run through Cashes Valley. Year round fun with professional guides and riders up to 245 pounds can be accommodated.

Adventure Trail Rides
Cashes Valley Road
Blue Ridge, GA
(706)258-BARN
www.adventuretrailrides.com

Blanche Manor Horseback Riding Stables 4 different riding packages available and because you can enjoy riding hoses year round in Blue Ridge, Georgia your ride could be through a shady forest trail or embarking into a snowy winter wonderland.

Blanche Manor Horseback Riding
177 Deal Hollow Road
Copperhill, TN 37317
(706)455-7433
www.blanchemanor.com


---
Trackrock Riding Stables has 2 different horseback riding packages available along with a great location with more than 250 acres bordering the Chattahoochee National Forest. Experienced horseback riding guides and the opportunity to see wildlife such as wild turkey and deer as you ride your horse across crystal clear mountain streams and canter through peaceful green meadows.

Trackrock Stables
202 Trackrock Camp Road
Blairsville, GA 30512
(706) 745-5252
www.TrackRockStables.com


---
Brasstown Valley Stables is a real class act in a great location. Year round riding on 5 miles of horseback riding trails featuring 1 and 2 hour guided mountain trail rides through open fields, hardwood forests and by crystal-clear trout streams. For beginning riders ages 6 and under there are hand led horseback rides in the stables riding ring.

Brasstown Valley Stables
6321 Highway 76
Young Harris, Georgia 30582
(706)379-9900
www.brasstownvalley.com/stables


Blue Ridge Bird Seed Company is an independent birding specialty store in downtown Blue Ridge, Georgia serving customers in person and online since 2003.

River Junction Olde Tyme Portraits and Family Photo Studio has a 500 square foot studio located in Downtown Blue Ridge GA near the depot. Lots of costumes and props with more added all the time and separate changing room. Create fun memories that last a lifetime.

The Vine Wine Bar and Bistro is located on E Main Street in Downtown Blue Ridge Georgia. Sample Georgia Wines from exceptional wineries along with and beers: domestic, imported beers and craft style brews - there is even great food!